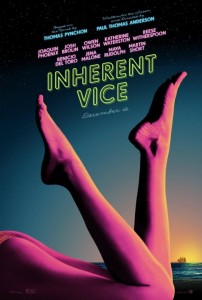 Yep, as one reviewer said, Paul Thomas Anderson's film of Thomas Pynchon's Inherent Vice is a "zany tragicomic odyssey that calls out for a repeat viewing" and so it appears. The reviews are, for the most part, positive.
Like any Pynchon novel, the film is weird and murky and the central mystery remains unresolved at the film's conclusion. If it did resolve, it certainly wouldn't be faithful to the book. Many of the critics note that Inherent Vice will reward repeat viewings, that there's simply too much to taken in the first time 'round. Sound familiar?
I, for one, am green with envy for those who were able to see the initial screenings. I can't wait to see this film!
Here's an overview of Inherent Vice's reviews after the initial screenings at the New York Film Festival in early October 2014.
[Read more…]