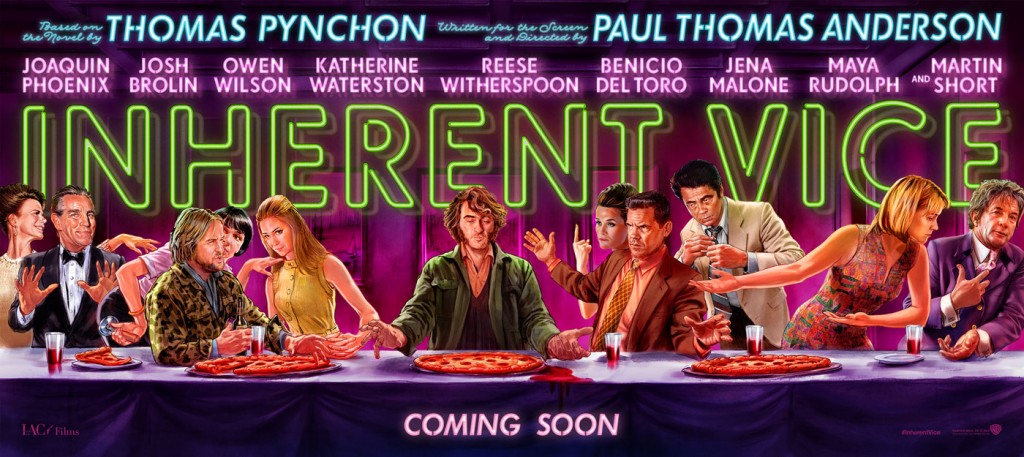 On November 10, 2014, I was fortunate enough to attend an advance screening of Paul Thomas Anderson's adaptation of Thomas Pynchon's novel Inherent Vice, at the Harmony Gold Screening Room on Sunset Blvd. in Los Angeles.
Just prior to the evening screening, I decided to re-read the final three chapters of Inherent Vice, as it had been over five years since I'd read it. This may have been a mistake, as a movie isn't a novel and has to compress a novel's essence into a much briefer time span. The trick is to make a movie that works as a cinematic experience and, often, requiring that faithfulness to the novel take a backseat. But re-reading a bit allowed me to better see the disparities between the film and the novel, at least for those few chapters.
As an enthusiastic reader of Pynchon, I was skeptical that even a director of Anderson's calibre could successfully translate a fairly conventional Pynchon novel to the Big Screen. And after seeing the film, I wasn't sure what to say in a "review," due to the complexity of my reaction and the feeling that I really needed to see it again, that it requires multiple viewings. But I've procrastinated as long as possible, as the film comes out tomorrow (in selected cities; general release is January 9, 2015)!
So off we went… My pal David Kipen, who procured the tickets, and I left Pasadena and headed to West Hollywood, both of us pretty excited despite my being at the tailend of a brief-but-brutal stomach virus and so a bit shakey.
CAVEAT: Regarding this "review," I've only seen PT Anderson's Inherent Vice once. I feel the film justifies a repeat viewing to really grasp Anderson's vision. It's entirely possible that my opinion of this film may evolve after a second look. And I DO recommend that you see it. MY job was to write this review; HIS job — much more difficult — was to actually make a good film…
UPDATE 12.12.14: I was privileged to speak to Mr. Anderson this morning via the PBS program Forum (on KQED in the SF Bay Area) and ask about all the great period music included in Pynchon's Inherent Vice not making it to the film. Paul explained his reasons for not doing so. Here's our exchange:
Inherent Vice — The Movie!
Inherent Vice opens with Doc Sportello, played brilliantly by Joaquim Phoenix, drifting in his Gordita Beach pad, when his ex, Shasta Fay Hepworth (Katherine Waterston), shows up unannounced. The dialog pretty much matches the novel's. Good enough, although the scene almost immediately took a Hollywood-movie turn and got all sentimental and such which, to my mind, grated a bit. My experience reading any Pynchon doesn't really include melodrama and this scene got kind of schmaltzy, and went on too long.
In fact, it was the serious scenes, with the heartfelt exchanges, where I felt the most uncomfortable. They were too realistic (and then there is an interminably long sex scene with Shasta and Doc…). I felt this type of scene might be better rendered as a cartoon than live action. Played as human drama, it just didn't feel like Pynchon.
I enjoyed the wackier scenes (Martin Short plays Dr. Blatnoyd brilliantly), but I found some scenes to be flat, with nothing much going on or just overstaying their welcome.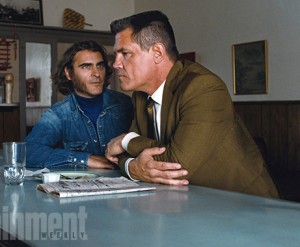 Joaquin Phoenix is very very good. He really grounds the film, tethers it to its comical/absurdist roots, and almost single-handedly makes the film worth seeing. His plays it for the farce that it either is, or should be (as I said, Anderson tries to walk the line…), and he's hilarious.
Josh Brolin, playing Bigfoot Bjornsen, Doc's sort-of nemesis, is also great. And he gets pretty out there, at one point barking in Japanese "Dozo, motto panukeiku!" to the cook in a Japanese greasy spoon" (p.210 in the novel) and later eating a plate full of pot. Crazy shit.
The acting is excellent overall. No complaints there. (Maybe Joanna Newsom wasn't exactly excellent, but serviceable… And I'm not sure how I feel about her voiceover…)
And a number of scenes are really quite well done, particularly — maybe exclusively — the ones that are comical, absurd, or both.
Those who have read Inherent Vice will enjoy Anderson's faithfulness to the dialog (as far as it goes), although this gets at my overall issue with the film — that while being faithful to the dialog (or at least the dialog that makes it into the film), the result is too linear (no matter what other reviews say!). I think it requires more ironic distance to work. Anderson attempts to walk that line between farce and sincerity, where we're somehow expected to actually care about these cartoonish characters who act absurdly.
The film was shot in 35mm, but most theaters (including the screening I saw) will show it in DCP (Digital Cinema Package) format, aka digital. So there's crystal-clear sharpness, where you can see every pore in someone's face, the way most all movies look these days. Not necessarily the right or best look for this film…
The Inherent Vice Soundtrack… Where are all those great tunes Pynchon calls out?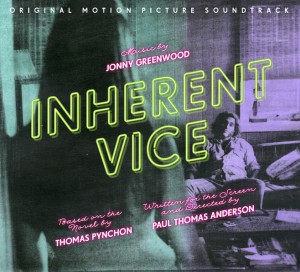 Jonny Greenwood is the guitarist in the band Radiohead, and he composed the film's soundtrack. I was unpleasantly surprised by his soundtrack. Pynchon pretty much dictates a soundtrack with great period songs, but few if any of them made it into the movie. ("Wonderful World" and "I Want to Take You Higher" — featured in the trailers and movie — aren't in the book) Rather, we get Greenwood's faux 60s/70s music and mood music. His soundtrack is okay, but Pynchon names almost a hundred great and often obscure songs from the 1960s and 1970s, and almost none of 'em made it into that soundtrack.
For instance, on page 368 of the novel:
He cut in the Vibrasonic. KQAS was playing Fapardokly's triple-tongue highway classic "Super Market," ordinarily ideal for driving through L.A….
Merrell Fankhauser of Fapardokly, the guy who wrote and performed "Super Market", really wanted his song in the film, but it didn't happen. "Super Market," like so many of the other songs mentioned, has a great period flavor, and Pynchon put together a brilliant collection of pop from the era. I think the inclusion of a lot of these tunes would have pulled the film more in the direction of Pynchon's intent.
Like I said, Greenwood's soundtrack is okay, but it ain't the soundtrack to Inherent Vice…
(You can listen to Anderson's reply to my question about the music, above.)
Expectations Dashed — MY Bad?
Based on the initial reviews of the film following the screening at the New York Film Festival, I really expected something wild, antic, surreal, non-linear. And certainly the film does capture some of these qualities, but I was disappointed that two of the weirdest scenes in the novel didn't make the cut:
At the beginning of Chapter 18 (p.315), the "Rock of Gibralter" scene:
Being on the way to visit Adrian Prussia, he'd decided not to smoke much, so he was at a loss to account for the sudden appearance, rising ahead, of a dark metalic gray promontory about the size of the Rock of Gibralter. Traffic crept along, nobody else seemed to see it.
Also in Chapter 18 (p.318), when Doc, dosed with PCP, hallucinates (?) an encounter with the Golden Fang:
But here, out of, well, not exactly nowhere, but some badlands at least that unmerciful, came this presence, tall and cloaked, with oversize and wickedly pointed gold canines, and luminous eyes scanning Doc in a repellently familiar way. 'As you may have already gathered,' it whispered, 'I am the Golden Fang.'

[…]

'Thanks for clearing that one up, Mr. Fang.'

'Oh, call me 'The Golden.'
Crazy shit, and funny! Didn't make it into the film. Neither did the Lemuria connection, nor the ARPAnet/Internet stuff, nor most of the songs mentioned in the book, including a couple Pynchon tunes (all his novels have 'em), notably a keeper by Droolin' Floyd Womack (p.51 in the novel). Too bad…
And it's the really out-there stuff that often gets the Pynchon pot boiling. His world isn't the Real World but, perhaps, the Real World on Acid. "Reality" morphs into fantasy, linear time is scattered, facts are provisional at best, and everything is connected.
Finally, because I'd happened to read this passage a few hours earlier, I was surprised by how this scene from the novel was depicted in the film:
On page 347 of Inherent Vice, there's the following exchange between Crocker Fenway, Japonica's wealthy father, and Doc:
"How much money would I have to take from you so I don't lose your respect?"

Crocker Fenway chuckled without mirth. 'A bit late for that, Mr. Sportello. People like you lose all claim to respect the first time they pay anybody rent.'

'And when the first landlord decided to stiff the first renter for his security deposit, your whole fucking class lost everybody's respect.'
Interestingly, in the film Fenway delivers his line about "People like you," but doesn't include Doc's retort.
I'm sure there were similar omissions, AND I'm certain that Paul Thomas Anderson could explain to me exactly why he did what he did.
So, Hot Shot… What Would YOU Have Done?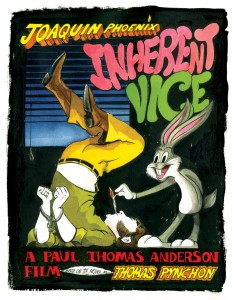 I suppose I envisioned a movie that was perhaps murkier and more surreal. Think Terry Gilliam's film of Fear and Loathing in Las Vegas (1998) or Brazil (1985). Think Robert Zemeckis' Who Framed Roger Rabbit (1985) with its combination of cartoon characters and humans. Think Black & White. Think Noir.
Alex Fellows, an illustrator unaffiliated with Warner Bros., created his own concept for a poster promoting the Inherent Vice film (at left), which I think captures the feel of the novel better than the posters produced by Warners.
I guess the film would have been better served — at least from a Pynchonian perspective — by a murkier, grainier look, perhaps switching between genres (cartoons, musicals, sci-fi, B&W noir, and so forth), and the inclusion of more obscure period songs (per the novel).
Of course, I'm just armchair-quarterbacking what Paul Thomas Anderson has done with Pynchon's novel. I know he loves Pynchon's work, and really wanted to be the guy who turned a Pynchon novel into a feature film. But he was facing a daunting, perhaps impossible challenge, as no Pynchon novel had yet been brought to the Big Screen.
But I think that I had a kind of possessive feeling that if anybody was going to do this — if anyone was going to fuck it up, I would prefer that I would be the one to fuck it up.

– Paul Thomas Anderson, Indiewire, December 8, 2014
And, honestly, I don't think he "fucked it up"; but he may have taken on an impossible task, or at least a task that requires one to think way outside the feature-film box. [Anderson details his method for adapting the novel in this interview.]
In this New York Times video "Anatomy of a Scene | 'Inherent Vice', Anderson narrates a scene from the film and says, "There's not a lot of room in the movie to do cinematic tricks. It's a pretty straightforward film, straightforward style."
Not a "lot of room"? OK…
Is it even POSSIBLE to adapt a Pynchon novel to the Big Screen?
As David and I left the theater, the first thing I could think to say was, "You know, it may just be impossible to translate Pynchon to the Big Screen."
Pynchon is a great novelist, and one must assume that everything he puts into a novel is there for a reason… to support the overall vision that's guiding him. As Pynchon himself says in his introduction to Donald Barthelme's 1992 collection The Teachings of Don B. (my emphasis):
[D]reams seldom make it through into print with anything like the original production values anyway. Even if you do good recovery learning to write legibly in the dark and so forth, there's still the matter of getting it down in words that can bring back even a little of the clarity and sweep, the intensity of emotion, the transcendent weirdness of the primary experience. So it's a safe bet that most writers' dreams, maybe even including the best ones, manage to stay untranslated and private after all.
Pynchon labors over his work to get it as right as he can, as true to his vision. Every theme, every sentence, every word contributing to the novel's overall effect. Then someone comes in and slices and dices it to make it a Good Film, removing this bit of dialog here, changing the ending, adding this bit, leaving out much of the work, etc. Sure, maybe at the end there'll be something entertaining to those unfamiliar with the source novel, but the chances are slim. And even if it somehow manages to be entertaining, it may have left the novel's gravity entirely. This is fine, and it can result in very good films.
Alas, the Cruel Irony may be that it's simply impossible to adapt a Pynchon novel for film and please fans of Pynchon's fiction.
And finally, Dear Reader: Please understand that I really wanted to like this film. And you should DEFINITELY go see it! And I may yet come to better appreciate Anderson's effort after seeing it again.
Dissenting views: Drew McWeeny over at HitFix feels just the opposite, as does Glenn Kenney at Wondering Sound.
* * * * * * *
Press conference at the New York Film Festival premier screening, October 4, 2014 (from left): Paul Thomas Anderson (Director), Joaquin Phoenix (Doc Sportello), Katherine Waterston (Shasta Fay Hepworth), Benicio Del Toro (Sauncho Smilax), Maya Rudolph (Petunia Leeway), Joanna Newsom (Sortilège), Michael Kenneth Williams (Tariq Kahlil), Hong Chau (Jade), Jena Malone (Hope Harlingen), Owen Wilson (Coy Harlingen), Sasha Pieterse (Japonica Fenway), Martin Short (Dr. Rudy Blatnoyd):