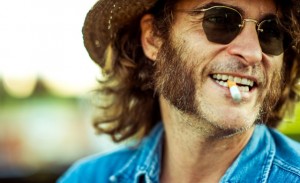 "Inherent Vice," the movie, will be shown four times on Saturday, October 4, 2014, at the 52nd New York Film Festival. At the Tully Hall viewings, director Paul Thomas Anderson and select cast members will be present.
The Festival's website includes (actually, included – see below) this synopsis of the film:
In 'Inherent Vice,' when private eye Doc Sportello's ex-old lady suddenly out of nowhere shows up with a story about her current billionaire land developer boyfriend whom she just happens to be in love with, and a plot by his wife and her boyfriend to kidnap that billionaire and throw him in a loony bin… well, easy for her to say.

It's the tail end of the psychedelic '60s and paranoia is running the day and Doc knows that "love" is another of those words going around at the moment, like "trip" or "groovy," that's being way too overused—except this one usually leads to trouble.

With a cast of characters that includes surfers, hustlers, dopers and rockers, a murderous loan shark, LAPD Detectives, a tenor sax player working undercover, and a mysterious entity known as the Golden Fang, which may only be a tax dodge set up by some dentists… Part surf noir, part psychedelic romp – all Thomas Pynchon.
HOWEVER, I just now re-visited the Festival's site and the above description has been replaced (!) by this completely different one:
Paul Thomas Anderson's wild and entrancing new movie, the very first adaptation of a Thomas Pynchon novel, is a cinematic time machine, placing the viewer deep within the world of the paranoid, hazy L.A. dope culture of the early '70s. It's not just the look (which is ineffably right, from the mutton chops and the peasant dresses to the battered screen doors and the neon glow), it's the feel, the rhythm of hanging out, of talking yourself into a state of shivering ecstasy or fear or something in between. Joaquin Phoenix goes all the way for Anderson (just as he did in The Master) playing Doc Sportello, the private investigator searching for his ex-girlfriend Shasta (Katherine Waterston, a revelation), menaced at every turn by Josh Brolin as the telegenic police detective "Bigfoot" Bjornsen. Among the other members of Anderson's mind-boggling cast are Reese Witherspoon, Benicio Del Toro, Martin Short, Owen Wilson, and Jena Malone. A trip, and a truly great American film. A Warner Bros. Pictures release.
Strange….