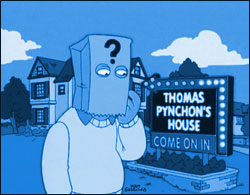 Welcome!
On this site you can check out the many and various covers for Pynchon's novels over the decades and the world, as well as the latest news, and links to great online Pynchon resources. And, for those who are new to reading Pynchon, read the "Newbies" article.
For in-depth analyses, guides and page annotations for each of Pynchon's novels, visit the PynchonWiki where you will also find most of the reviews for each novel, and lots of other good info. The guides and annotations make PynchonWiki an excellent companion to readings of the novels.
You can read Thomas Pynchon's biography — such as it is — on Wikipedia.
Paul Thomas Anderson's "Inherent Vice" Film
Of course, the big news in Pynchonville is the October 4, 2014 premier of Paul Thomas Anderson's film adaptation of Inherent Vice.
And you can always check out the promo video for the novel, narrated by Pynchon himself….