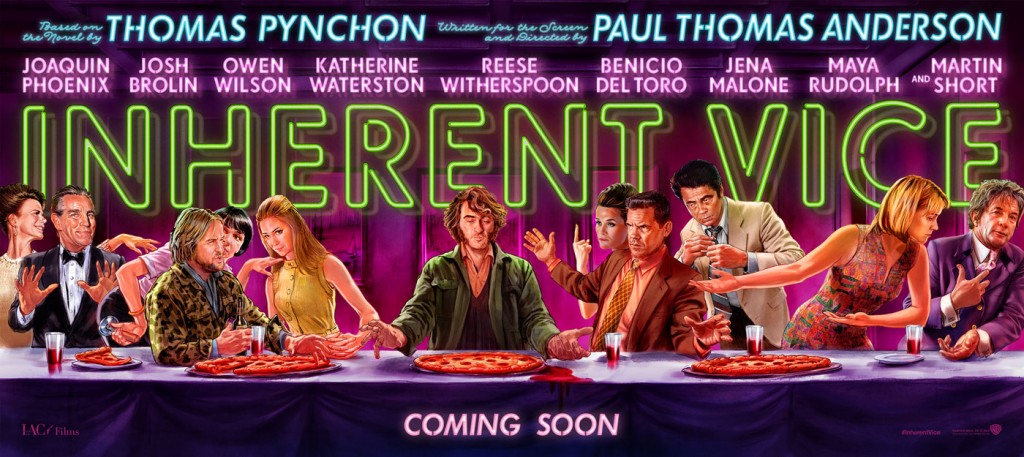 On November 10, 2014, I was fortunate enough to attend an advance screening of Paul Thomas Anderson's adaptation of Thomas Pynchon's novel Inherent Vice, at the Harmony Gold Screening Room on Sunset Blvd. in Los Angeles.
Just prior to the evening screening, I decided to re-read the final three chapters of Inherent Vice, as it had been over five years since I'd read it. This may have been a mistake, as a movie isn't a novel and has to compress a novel's essence into a much briefer time span. The trick is to make a movie that works as a cinematic experience and, often, requiring that faithfulness to the novel take a backseat. But re-reading a bit allowed me to better see the disparities between the film and the novel, at least for those few chapters.
As an enthusiastic reader of Pynchon, I was skeptical that even a director of Anderson's calibre could successfully translate a fairly conventional Pynchon novel to the Big Screen. And after seeing the film, I wasn't sure what to say in a "review," due to the complexity of my reaction and the feeling that I really needed to see it again, that it requires multiple viewings. But I've procrastinated as long as possible, as the film comes out tomorrow (in selected cities; general release is January 9, 2015)!
So off we went… My pal David Kipen, who procured the tickets, and I left Pasadena and headed to West Hollywood, both of us pretty excited despite my being at the tailend of a brief-but-brutal stomach virus and so a bit shakey.
CAVEAT: Regarding this "review," I've only seen PT Anderson's Inherent Vice once. I feel the film justifies a repeat viewing to really grasp Anderson's vision. It's entirely possible that my opinion of this film may evolve after a second look. And I DO recommend that you see it. MY job was to write this review; HIS job — much more difficult — was to actually make a good film…
UPDATE 12.12.14: I was privileged to speak to Mr. Anderson this morning via the PBS program Forum (on KQED in the SF Bay Area) and ask about all the great period music included in Pynchon's Inherent Vice not making it to the film. Paul explained his reasons for not doing so. Here's our exchange: