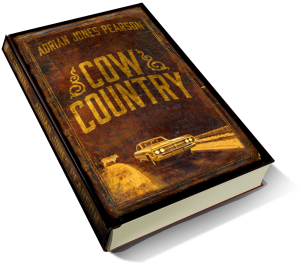 After a friend suggested that I check out a recent article in Harper's by Art Winslow, which speculates that Thomas Pynchon might be the author of Cow Country, a novel published in April 2015, I decided to check it out.
Cow Country was published by Cow Eye Press and written by "Adrian Jones Pearson," the nom de plume of Anthony Perry, who as A.J. Perry previously wrote Twelve Stories of Russia: A Novel, I Guess (2001); at least, that's the identity for the Cow Country author that the Associated Press came up with when they looked into this.
I was further encouraged to look into this when New York Times reporter Alexandra Alter contacted me via this website to get my opinion about the whole deal for an article published on September 11, 2015.
So I downloaded a sample from Amazon and read the first chapter of the book which was pleasant enough, but really I was just reading it for the hallmarks of Pynchon's style.
So NYT Alexandra and I never connected, but I did email her to explain why I didn't believe that Pynchon was the author of Cow Country:
Although there's always a first time, Pynchon has never written in the first person, and Cow Country is in the first person.
Right out of the gate, Cow Country sounds nothing like Pynchon… none of his style, grace, wit, voice, subtlety.
Pynchon has his own work agenda, with a pipeline of novels in various states of completion. That he would take the time to write a "spoof" on the publishing business and exagerated importance given to author biographies — a work of 540 pages, no less — is silly. Let's just say he has bigger fish to fry…
The Harpers writer seems to think that the presence of same weird names, science, and high-school humor links "Adrian Jones Pearson" to Pynchon, but it takes a heck of a lot more than that to be equated or compared to Pynchon.
Heck, the Wanda Tinasky letters sound a lot more like Pynchon than does Cow Country. But for anyone with more than a passing familiarity with Pynchon's work, it's immediately obvious that he's not the author of Cow Country. It's also likely that Pynchon would cringe at the notion.
Every Pynchon expert who was asked to opine stated unambiguously that Pynchon did not write the book. And Pynchon's publisher, Penguin Press, as well as his agent Melanie Jackson, also stated the same.
Cow Country written by Thomas Pynchon? Bullshit!
I find the whole affair pretty silly and I'm surprised that any professional critic or any Pynchon fan would give this any credence at all. Thus is the 24-hour news cycle… everyone rushing to get a story out to get eyeballs regardless of its viability.
Now let's see what next comes down the pike from Thomas Pynchon. Whatever it is, it'll likely be better than Cow Country.