Julian Benfield is the owner of Julian's Books, a rare and used book dealer in New York since 1997. Prior to that he worked for Xerox in engineering and marketing management, and as a computer consultant. He holds a Bachelor's degree in Mechanical Engineering from The Cooper Union, and MBA from Rochester Institute of Technology. His coolest offering is currently a signed copy of Mason & Dixon.
In 1999 I was able to outbid other New York dealers and collectors to obtain a signed first edition of
Mason & Dixon
by Thomas Pynchon. This was offered by The Cathedral School of St. John the Divine, where his son was in attendance. The following year, I was able to repeat the feat to obtain a signed
Crying of Lot 49
, again at Cathedral School's annual fundraiser. While the books were just signed on the title page, I was told, after the auction, that Pynchon would be happy to personally inscribe the books if I so desired. Since I was buying for resale, I thought that it might be best to not request that. Some may disagree, but that was my choice.
Fast track to a few years ago, when I was negotiating with a potential buyer for Crying Of Lot 49, and mentioned that I never took Pynchon up on his offer to personalize the book. My customer, who subsequently paid $23,500 for the signed Lot 49, immediately asked if Pynchon would inscribe it to him. That's where my saga started.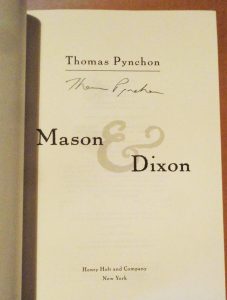 Sure enough, I contacted Pynchon's wife and agent Melanie, and told her I wanted to take Thomas Pynchon up on his offer. No good. After much back and forth, I was told that he would not do it, and I should stop bothering them. She said the offer was only good at the time of the purchase. But I argued that was not specified — there was no time limit given — and wouldn't it be a nice thing for him to do, given I had opened my wallet wide to support the school's charity auction, etc. They wouldn't budge — so next I talked to his publicist at Penguin. Again, more back and forth, until she finally told me that Thomas Pynchon had declared he will never sign a book again, let alone inscribe the signed copies I had.
I hate to think of this in any legal sense, but it is inevitable that some will do so, I suppose. The auction catalog for Lot 49 just stated "and personalized by request". Traditionally, if something is ambiguous, the interpretation favors the buyer — and emphatically so if there is no resulting cost or burden to the seller. Even more so with a luxury item. In addition, the mere passage of time does not cause one to lose a purchased benefit, unless it is somehow not feasible for the seller to make good on the benefit (like a company going bankrupt, etc.). An inscription takes a few seconds. On his side of the argument, one can say that we all know he is loathe to sign anything, so therefore I am being unreasonable.
What do you think?