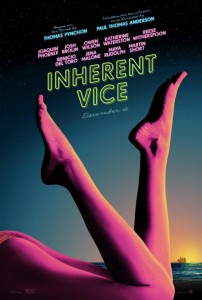 Today, Sunday, September 29, 2014, Warner Bros. released the Official Trailer for Paul Thomas Anderson's adaptation of Thomas Pynchon's Inherent Vice, as well as a poster (at left; click to enlarge).
Odd that the trailer features Sly Stone's "I Want To Take You Higher" (1969) and Sam Cooke's "Wonderful World" (1960), neither of which was namechecked in Pynchon's Inherent Vice, and there were a LOT of 1960's/1970's tunes namechecked in that novel!
Judging from the trailer, the film is a slapstick affair, wacky and well lit…. Boom shaka laka laka!