A new Pynchon resource helps you keep track of Inherent Vice's 130 characters, 37 entities, 6 gangs, 4 bands, and 1 dog. The website features color-coded diagrams, plot summaries and other resources so you can get the most out of reading Pynchon's complex detective novel. Inherent Vice Diagrammed creator Paul Razzell explains the origins and development of this innovative resource.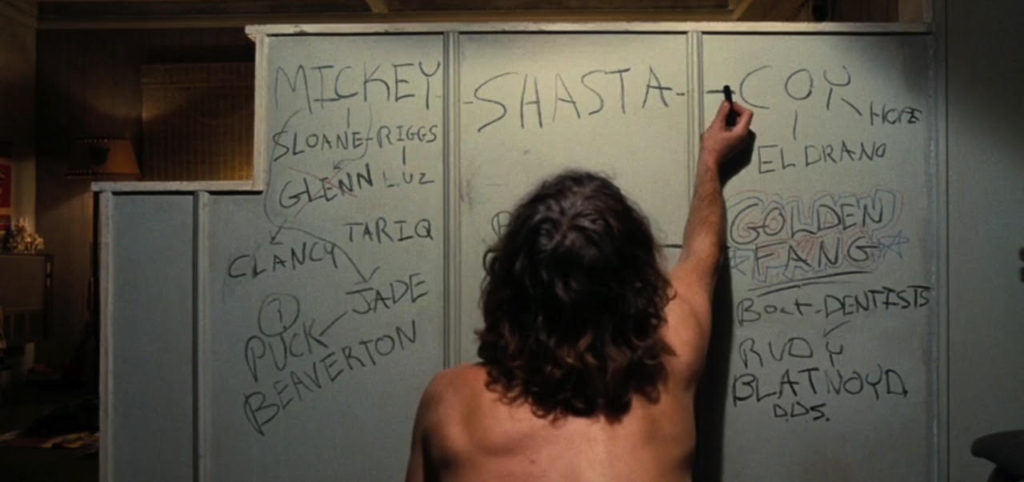 THERE'S A TELLING IMAGE in the film adaptation of Inherent Vice where private eye Doc Sportello attempts to diagram the connections among 16 people involved in his intersecting cases. Using crayons, he writes characters' names on his living room wall then draws lines between the names to show relationship, connection … or something. Why is this a telling image? 
For starters, it reminds you that Doc is trying to do exactly what you're trying to do: see the relationships among so many characters and what those relationships can tell us about their motivations, loyalties, hostilities, and power dynamics. 
Second, the scene is the filmmaker's acknowledgement to viewers that keeping track of all these characters and their relationships is hard work. Even a seasoned private eye like Doc, who's had personal contact with most characters, needs a visual aid. (Doc's diagram shows 16 characters only. There are over 50 in the film. His wall is nowhere near big enough to accommodate so many names at once nor, you are led to believe, is his mind.) 
Third, the image reveals a cognitive flaw in Doc's diagrammatic approach: all of his lines are unlabeled. How is Glen related to Clancy? How is Coy related to El Drano? Doc's highly generalized crazy wall doesn't answer such questions. It carries no precise or informative meaning that would lead him—or us—from confusion to revelation. 
Inherent Vice Diagrammed brings you much closer to that revelation. This free resource helps you see through Doc's marijuana haze with
Reading Inherent Vice is, after all, detective work. It's about finding connections between many people, organizations, and entities with a view to solving crimes and, perhaps, seeing where America is headed.