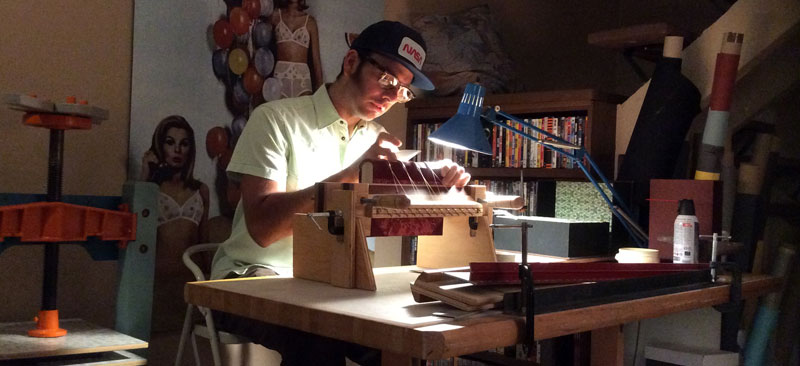 Andrew Boese is Pynchon fan and collector who in 2016 gained some notoriety by publishing, via his Optics Press, The "C" Section, a lovely hand-bound edition of the collected unpublished works of Thomas Pynchon. As Andrew writes on the website, he created Optics Press to produce high-end, extremely low-run prints of rare, unpublished, and unique works of art. Each volume is designed using only the highest quality materials, with one or two titles released annually, cased and numbered.
Tell me a bit about yourself, what your life journey looks like, and the Optics Press.
Andrew: I grew up in a printing family. Combine that with my love of reading and it was a natural progression into bookbinding. My favorite books to collect have always been limited and fine press editions. Stuff like George Macy's Limited Editions Club really opened my eyes to how much book design, printing, and binding can go into enhancing the reading experience. Even though there's a bunch of presses out there doing incredible work, I noticed that there was a niche of work that I'd like to see in a fine press edition that wasn't being explored. There's always been a healthy availability of classic works of literature and there's some incredible work being done currently in the Sci-Fi/horror genres but there's still so much out there that's at risk of being lost to time, dust, and decay. I started The Optics Press as an excuse to make books that for whatever reason don't exist that I want in my own collection. I make a handful of copies to sell at cost on the chance that there's other collectors out there that feel the same way I do.
Are you a collector of Pynchon, a fan of his work, or both? If so, when did you get interested Pynchon and how do you interact with the community of Pynchon fans?

Andrew: Both! Pynchon is actually my favorite author. A complete set of first editions is the centerpiece of my library, sandwiched between Nabokov and EC Comics. Almost all interactions with the Pynchon community has been through online Facebook groups; however, after I made The "C" Section I received a lot of direct mail and have had some great interactions from that.
What led to your decision to create and publish The "C" Section?
Andrew: I've always been fascinated by self published pamphlets, zines, etc. Jim Pennington's work on those Pynchon short-stories bootlegs is great. The goal of The "C" Section wasn't so much to showcase Pynchon's short stories (That's what Slow Learner is for) but to preserve the vibe that those bootlegs have, from their fantastic cover art down to the low-budget mimeograph printing.
What specific challenges or problems or delights did you encounter in putting together The "C" Section?
Andrew: Collecting all the bootlegs was the biggest challenge. Alas, I was never able to acquire a copy of Of A Fond Ghoul [the collected correspondence between Pynchon and his editor for V., Corlies "Cork" Smith] but found a fellow collector that had one and was willing to work with me. "The Voice Of The Hamster" section I designed myself to look like the other bootlegs. I had a lot of fun designing the cover (pic below) for that one using old high school yearbook photos from the 1950s and assigning them various Pynchon character names.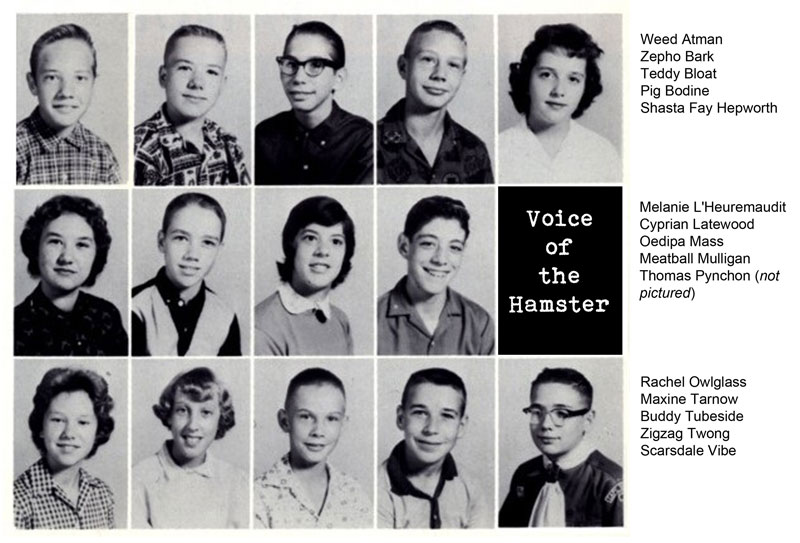 So what does the title of your book refer to? I figure it has something to do with standard publishing being natural birth and your book being a C-section?
Andrew: Yep, you nailed it! It's a combination of that and that the unauthorized editions are listed under the "C" section, "Unauthorized Editions," in Clifford Mead's Bibliography [Thomas Pynchon: A Bibliography of Primary and Secondary Materials, The Dalkey Archive Press (1989)]. I thought the coincidence was too good to pass up when deciding on a title. I explained it in the intro I put in the book but I guess I never put it anywhere else: "In 1989 Clifford Mead assembled the definitive Pynchon bibliography. Divided into lettered sections, he listed all of the unauthorized publications under the "C" section. Now, whether or not Mr. Mead saw the irony in putting a list of books that the author would probably have preferred never see the light of day under a title that in medical terms is an abbreviation for caesarian section is unknown, but for the naming of this collection, that connection is duly noted. For all the gruesome imagery it implies of books being forcefully cut out of an author, I cannot think of a more apt title for this volume."
Do you have any plans to print a 2nd edition?
Andrew: No. Each project so far for the Optics Press has taken about a year. Keep in mind, I'm a one man operation. I do all the designing, scanning, editing, printing, binding, etc. The joy of making these books for me is making new ones. That being said, I'm definitely not opposed to doing another Pynchon project! I would love to do a complete Bomarc Service News [the Boeing Airplane Company's publication for which Pynchon wrote after graduating from Cornell] but finding that collection has been difficult to say the least. If you or anyone you know has a complete collection and wants to help me create an awesome book, shoot me an email!
What do you envision for upcoming Optics Press publications?
Andrew: Since The "C" Section I've published two more books for the Optics Press. The first was Art Spiegelman and Francoise Mouly's masterpiece RAW; the second being Ed Sander's epic contribution to the mimeograph revolution, Fuck You/ A Magazine Of The Arts. As you can see, I've had a bit of a trend going since The "C" Section in regards to self-published works of art. If The Optics Press has an ethos, it's taking self-published magazines/comics/pamphlets that have historical significance or are personally significant to myself (preferably both) and binding them in exciting/unique ways in fine-press editions designed to last for generations. This trend continues with my next book which will be a collection of the work Wally Wood self-published in the 1970s (including the complete Sally Forth and Cannon). Wood is by far my favorite comic book artist and these books are personal favorites of mine. The books along with some extras like the Woodwork Gazette will not only showcase an artist at the peak of his powers but will also reveal the sad story of a self-publishing venture that started with enthusiastic hope and ended in depressing failure.
Subsequent to Andrew's providing me with his responses to my questions, I solicited questions for him via the W.A.S.T.E. Pynchon group on Facebook. Be careful what you ask for!
Ask him if he believes that Thomas Pynchon has any vision of right action in his lifelong works, all of them. Then ask if he believes in sin, however he wants to define it and which would include for me dishonoring a great writer by stealing and publishing words he would not publish himself. Tell him some, at least one, Pynchon fanboy would never buy his book and wishes he could lead a boycott. Tell him Pynchon and Ms. Jackson [Pynchon's wife and agent] know that to even write cease & desist letters much less sue would only create demand.
Andrew: (Note: I like to make a point of not responding or engaging with online trolls. I've found that once they've set their mind to a belief, no matter how ill informed, it's impossible to convince them otherwise. That being said, there are some interesting points that I'd be happy to clarify for anyone that is interested.)
I believe that any artist has the absolute right to create something and make sure it gets delivered to the world with their vision intact. As far as the "sin" of dishonoring a great writer, that's an interesting question. When does time become a factor? Is it only a sin if the writer is still alive? Would Dante consider it a sin if he found out his Divine Comedy had been illustrated by Salvador Dali and, gasp, translated into English? How pissed off would Kakfa be if he found out his friend Max Brod dishonored his vision of destroying his unpublished works?
As far as I can tell, Pynchon's vision for say, "The Secret Integration," was to have it be read in The Saturday Evening Post and then be forgotten and thrown away when the next issue arrived. Luckily that didn't happen and Aloes Books published unauthorized editions of that short story and others for fans desperate to read more Pynchon during the lull between Gravity's Rainbow and Vineland. It was those unauthorized copies that led to the publishing of Slow Learner.
I use The Optics Press first and foremost to create books as works of art using old-school bookbinding techniques. By combining that with scholarly preservation of previously published works I'm combining two of my favorite passions. The "C" Section was not designed to be a Thomas Pynchon short-story collection. Everything featured in the book can be found and read elsewhere, whether in the original publications as Pynchon envisioned (his high school newspaper, Cornell Writer, Kenyon Review, The Post, etc.) or reprinted editions (Slow Learner, the unauthorized editions, the Internet). No, The "C" Section was designed as an example of modern bookmaking that preserves for historical purposes the unauthorized editions. It is not and never was my intent to create a market in which I profit over the original artist/copyright holder. If that was the case I would have saved myself months of hard work and just printed out and stapled a couple hundred copies of Of A Found Ghoul and sold them for $20 a pop. Not only would that not be fair to the Pynchon estate but it would destroy the market value of the actual copies, and I have no interest in upsetting collectors either.
Completely hand-sewn/bound books are not cheap. There's a reason that most people have never seen, let alone held, one and if they have it was probably 100+ years old. I sell my books for cost (that doesn't include labor) because this is something I truly believe in and I want my vision to remain intact. Life is too short not to work on something you believe in that makes you happy. And if that thing happens to make a handful of other people happy, all the better. And if that upsets you and inspires you to lead a boycott, well, I don't know what to tell you.
Might you ever consider binding together all the Pynchon Notes [a journal devoted to studying the works of Thomas Pynchon, published from 1979 to 2009]?
Andrew: It is something that I've considered but is not currently at the top of my list, for a few reasons: 1) it would probably require multiple volumes which is a lot of work and extremely costly; 2) it is incredibly well archived already on the Internet; 3) it wouldn't be challenging! What I mean by that is that I'd simply have to print the downloaded files and then bind the book as usual. With my last few books, I've chosen titles that have forced me to challenge myself from a design point of view as well as a bookbinder. Whether it's doing a full digital restoration (RAW, my new Wally Wood project) or experimenting on printing with different stocks/colors of paper (Fuck You/ A Magazine of The Arts).
* * * * * * *