Vineland
XXX Atomic Toejam: "I'm A Cop" on Karmanik Collection (Various Artists, 1993)
This metal interpretation of Billy Barf and the Vomitones' "I'm A Cop" (356–57) was recorded by Fredrik Thordendal of Meshuggah and Petter Marklund of Sepülchre Inc. Their band name riffs on Vineland's band Fascist Toejam. Links: discogs.com | Youtube
Lodger: "Floozy with an Uzi" from How Vulgar (2007)
The Finnish indie band used Pynchon's "Floozy with an Uzi" (104–05) verbatim. The album name may or may not refer to Gravity's Rainbow "Vulgar Song" or V.'s "The Vulgar Song." Links: discogs.com | Youtube
Eddie Enrico and His Hawaiian Hotshots ♥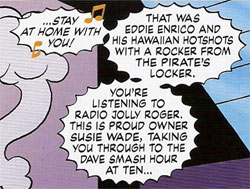 In 2012, graphic novelist Alan Moore (known for V for Vendetta, in which the main character V is also seen reading Pynchon's novel) and Tim Perkins published the single "Immortal Love/Home with You," recorded a couple of years earlier under the name Eddie Enrico and His Hawaiian Hotshots, riffing on Vineland's Eddie Enrico and His Hong Kong Hotshots and the novel's Hawaiian themes. The vinyl single was supposedly recorded in the 1950s on a—fictitious—American 1950s label. In an interview, Moore recalls the wrong novel: "The band is called 'Eddie Enrico and His Hawaiian Hotshots,' which, I believe, were mentioned very briefly by Thomas Pynchon in his excellent The Crying of Lot 49." Links: discogs.com | Youtube
Detlef Weinrich a.k.a. Tolouse Low Trax: "Vineland" (2014)
"Vineland" appeared on a sampler. The German electronic musician also recorded "Tristero's Empire" (see The Crying of Lot 49 section). Links: Beatport | Youtube
Mason & Dixon
Marc Behrens: "Secular Air" from Contraction (1999, remastered 2014)
German electronic musician Marc Behrens writes on Bandcamp that the track was inspired by a passage from Mason & Dixon (188). Links: allmusic.com | discogs.com | Bandcamp
Mark Knopfler: "Sailing to Philadelphia" from Sailing to Philadelphia (2000)
The title track of Mark Knopfler's album was inspired by Pynchon's novel. Although he does not adapt Pynchon's lyrics or excerpts from the novel, his choice of words clearly point to the novel. Links: allmusic.com | discogs.com | Youtube
John Zorn: "Mason and Dixon" from Insurrection (2018)
In 2018, the prolific American saxophone player of all genres released Insurrection, "Inspired by some of the greatest experimental novels of the 20th century," among which Mason & Dixon. Links: discogs.com | Youtube
Against the Day
Bryan Scary & The Shredding Tears: Flight of the Knife (2008)
The American prog rock band's album was inspired by Against the Day, "with nearly every song delineating a tale of flight, airships, or the wild blue yonder" (band biography on discogs.com). Links: allmusic.com | discogs.com | Youtube
Los Llamarada: "Against the Day" (2008)
The Mexican lo-fi rock band released this song as a 7″ EP along with two other songs.
Links: discogs.com | Youtube
Land of Kush: Against the Day (2009) ♥
The Montreal-based orchestra around composer and musician Sam Shalabi released an album entitled Against the Day in 2009. The five tracks on the album are named for the five chapters of the novel: The Light over the Ranges, Iceland Spar, Bilocations, Against the Day, and Rue du Départ. There are—appropriately for a novel that is set in different locations throughout the planet—influences of Middle-Eastern, North African, and Western music. Links: allmusic.com | discogs.com
Miscellaneous homages and inspirations
Pere Ubu
Back in the days, there was an article on the now defunct themodernword.com, reproduced here, that discusses possible influences of Pynchon on the American avant-garde rock band around David Thomas. Besides noting many instances of the number 49 and the fact that they were never shy of dropping literary references from Pynchon to Conrad, they have a song entitled "Navvy" that plays with the flip-flop theme familiar from McClintic Sphere in V. Link: Youtube
(Thanks, John Krafft.)
David Ocker: Thomas Pynchon, His Pavane and Galliard (1988)
David Ocker (who has worked with Frank Zappa, John Adams, and among many others) describes his piece for cello and piano in Pynchon Notes.
Various Artists: German Noise (1990)
Discogs.com lists Thomas Pynchon for the liner notes of a German Noise album by various artists on the Animal Art label, released as a musicassette, but the pictures of the liner notes available online are too pixelated to verify this unlikely claim. I suspect that the liner notes quoted a passage from Pynchon.
Ric Ocasek: Fireball Zone (1991)
John Krafft pointed out this album by the Baltimore-born musician, formerly of The Cars, and wrote: "Why it's dedicated to Pynchon is anybody's guess." I agree. Links: allmusic.com | discogs.com
PopCanon: "Wanda Tinasky" from The Kingdom of Idiot Rock (2000)
The song is about Wanda Tinasky, the lady who wrote funny letters sent to the Mendocino Commentary and Anderson Valley Advertiser between 1983 and 1988. The author of the letter was never pinpointed but many believed it was Thomas Pynchon writing under a pseudonym. Links: allmusic.com | themodernword.com
L'Orchestre Inachevé: L'Égout des Goûts (2002)
The French electronic group credits Pynchon with the lyrics of the first seven tracks of their album (along with others, such as Gilles Deleuze) but I have not been able to assign them to particular books. Link: discogs.com
Les Productions de l'Invisible: L'information (2004)
Les Productions de l'Invisible (featuring some of the same musicians as L'Orchestre Inachevé) mash up texts or lyrics by Pynchon and others with music by different composers. On L'information are the tracks "Uzi 1" and "Uzi 2," Dopper's Dream," "Sa bit à lui," and "Il est trop tôt encore." Link: discogs.com
Maya (105): "I Read Pynchon" (Sampler, 2006)
This band which does not seem to have recorded anything else, has a song with the title "I Read Pynchon" on a 2006 label sampler for Good Name for a Racehorse Records. Links: discogs.com
Andrew Bird: "Imitosis" from Armchair Apocrypha (2007)
The song features a certain Professor Pynchon. Links: allmusic.com | discogs.com | Youtube
Kids Explode: "I'd Rather Dance to a Pynchon Novel" (Various Artists, 2008)
The German post-punk/emo band, formed in 2004 and disbanded in 2010, recorded "I'd Rather Dance to a Pynchon Novel" on a 12″ vinyl they share with three other bands. Links: discogs.com | Bandcamp
Songs of My Lap: "Reading Pynchon Through Wet Eyes" from Let's Go for a Pleasant Drive in the Country (2013)
The British musician released this song on a musicassette/EP. Link: Bandcamp
Hi, I'm Reclusive Author Thomas Pynchon: Thomas Pynchon (2013)
The pop band from Adelaide, Australia, has five tracks on their album, but an intrinsic Pynchon connection is not evident right away. The cover image is put together from Pynchon's only known photograph and Pynchon as character of The Simpsons. Links: Bandcamp | Soundcloud
Thaumaturgist: Thomas Pynchon Tribute Band (2016)
The mini demo CD by Belgian artist Thaumaturgist features a the picture of Pynchon and muted post horn on the cover. Links: discogs.com | Bandcamp
Pynchon Ward
This British musician Andrew Moody, recording as Pynchon Ward, has a few songs available on Soundcloud.
The Black Hundred: "Thomas Pynchon"
The slow instrumental song by Sweden-based Australian James McGauran is available on SoundCloud.
Oilcan Noise: "I'm Sorry Thomas Pynchon," "Well Tom," "Incliningly," "In Tincans & Risk," and "Constructively Yours."
This series of musical letters by the New York band is available on SoundCloud: "I'm Sorry Thomas Pynchon," "Well Tom," "Incliningly," "In Tincans & Risk," and "Constructively Yours."
Artist unclear: "She Loved Thomas Pynchon"
On SoundCloud, there are three recordings on different profiles of a song entitled "She Loved Thomas Pynchon."
Tyler Burba ♥
New York City–based poet, musician, and singer/songwriter Tyler Burba interpreted a number of songs from Pynchon's novels for my talks in Philadelphia and New York City in 2015 and 2016 and for the event I organized at Cabaret Voltaire in Zurich on 8 May 2017 on the occasion of Pynchon's eightieth birthday. The barely edited live recordings can be found at www.haenggi.com/pynchon-songs.
On Thanksgiving 2017, Tyler and I decided to record an entire album with Pynchon's songs. More details about our undertaking (and opportunities to support us or preorder an album) can be found at https://vdisc.wordpress.com
Unverifiable Reference
Clarence Clemons
In a memoir with poetic licence, American tenor sax player Clarence Clemons, best known for playing with Bruce Springsteen's E Street Band, has a chapter entitled "The Legend of Clarence and Thomas (A Screaming Comes Across the Bar), 2008" in which he and Thomas ("nobody calls me Tom") Pynchon hang out and have dinner. The chapter's epigraph, self-attributed to Clemons, reads: "I love Gravity's Rainbow more than mac and cheese. It's lasted longer and has more nutritional value." I have no idea if Clemons († 2011) in actuality ever met Pynchon, let alone been friends with him, as Clemons claims, along with boasting that Pynchon had been to over 150 shows and owned a collection of bootleg CDs. No matter, it's definitely worth a read: Clarence Clemons & Don Reo: Big Man: Real Life & Tall Tales.
Velvet Underground, Live at Max's Kansas City (1972)
A 1997 post on the Pynchon mailing list quotes the obscure Barbie Chronicles (obscure these days meaning anything not readily found on The Search Engine) in which the author, one Bill Afham (William Afham was one of Søren Kierkegaard's pen names), writes that in the background of Velvet Underground's Live at Max's Kansas City, Barbie can be heard talking to Pynchon about drugs.
Contents
1 Introduction
2 "Entropy" and V.
3 The Crying of Lot 49
4 Gravity's Rainbow
5 Vineland, Mason & Dixon, Against the Day, and miscellaneous homages (this page)
6 Bibliography and Biography