Bibliography
Daw, Laurence. "More on Pynchon on Record." Pynchon Notes 12 (June 1983): 46–47.
García Iborra, Juan and Oscar de Jódar Bonilla. "Cultural Confrontation in Pynchon's 'Entropy' and Vineland." REDEN: revista española de estudios norteamericanos, 17–18 (1999): 35–50.
Moore, Steven. "Pynchon on Record." Pynchon Notes 10 (1982): 56–57.
Ocker, David. "Eight Facts About Thomas Pynchon, His Pavane and Galliard, A Piece for Cello and Piano." Pynchon Notes, 28–29 (spring–fall 1991). 147–50.
Pynchon, Thomas. Against the Day. 2006. London: Vintage, 2007.
—. Gravity's Rainbow. 1973. New York: Penguin, 2006.
—. Inherent Vice. New York: Penguin, 2009.
—. "Introduction." Been Down So Long It Looks Like Up to Me. By Richard Fariña. 1966, 1983. New York: Penguin Books, 1996. v–xiv.
—. Mason & Dixon. 1997. London: Vintage, 1998.
—. Slow Learner: Early Stories. 1984. London: Vintage, 2000.
—. The Crying of Lot 49. 1965. New York: HarperPerennial, 1999.
—. V. 1963. London: Picador, 1975.
—. Vineland. Boston: Little, Brown and Company, 1990.
"Radiohead's Secret Influences, From Fleetwood Mac to Thomas Pynchon." Rolling Stone, 28 August 2012.
Watts, Cedric. "Introduction." Heart of Darkness and Other Tales. By Joseph Conrad. Oxford: Oxford University Press, 2008.
Biography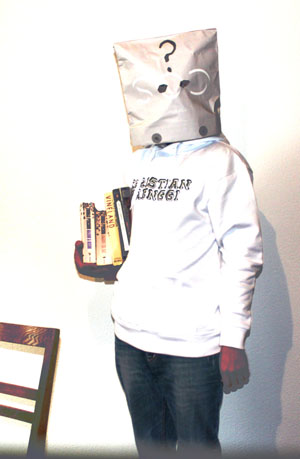 Zurich-based Christian Hänggi wrote his first dissertation, Hospitality in the Age of Media Representation, at the European Graduate School (Atropos Press, 2009). His second dissertation from the University of Basel, Switzerland, investigated music in Thomas Pynchon's work (2017). Among his publications are "'Harmonica, kazoo—a friend.' Pynchon's Lessons in Organology" in America and the Musical Unconscious (eds. Julius Greve and Sascha Pöhlmann; Atropos Press, 2015) and "Stockhausen at Ground Zero" in Fillip (N° 15, fall 2011). He is a member of the Association of American Kazoologists (you could become one, too!) and plays the alto and baritone sax in various bands and orchestras.
Contents
1 Introduction
2 "Entropy" and V.
3 The Crying of Lot 49
4 Gravity's Rainbow
5 Vineland, Mason & Dixon, Against the Day, and miscellaneous homages
6 Bibliography and Biography (this page)